~ ACKNOWLEDGMENT ~
WITH GRATITUDE to MY FRIENDS AND authors of the GORGEOUS ARIZONA photography and artwork WOVEN THROUGHOUT THE POSTS AND PAGES OF MILAGRO BIZ TO CREATE this beautifulLY PERSONAL website.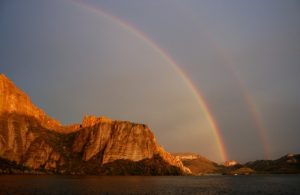 This photo was taken by Brad Burnham, a friend and professional photographer who is also featured on my STUDIO MILAGRO Fine Art website. You'll see more of Brad's pieces on this site as well. He has such an eye for capturing the absolute beauty of Arizona.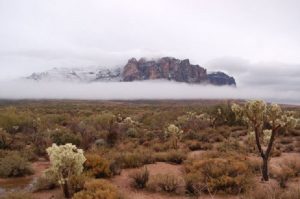 Another photo taken by Brad Burnham, showing one of many magical moments to be found in Arizona's nature, every one a special gift.
On the foothills behind my Phoenix home one evening, a monsoon storm was building from the other side of the mountain, and the sunset was playing off the clouds like fire. Arizona is so beautiful that even an amateur like me can take stunning photos with just a cell phone.
Another breath-taking photo by Brad Burnham. Not too many places in the world offer glorious red rock formations framed by such a deep blue sky, and Brad captured it magnificently.
I took this photo of these glorious white and purple cactus blooms right next door at my neighbors' home here in Phoenix. The cactus plants cover my neighbors' entire front yard, so you can imagine how spectacular the display!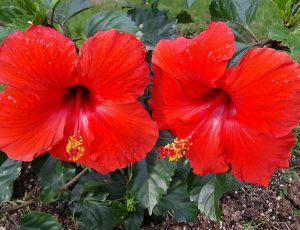 Another photo taken by me. The red Hibiscus is my favorite flower — since my first visit to my grandparents' Tarpon Springs Florida home with my brother Rod — I was only seven years old. They had a stunning hedge row of Hibiscus lining their circle driveway on the Gulf of Mexico beach. Crystal clear memories I still cherish. Happily, the Hibiscus grows well here in Arizona, too, so I planted these crimson blooms right outside my window in my backyard.
This photo I took right at home in my own Phoenix back yard. My Bird of Paradise is in full bloom, with Mediterranean palms peeking through the background. The Bird can be an elusive bloom, so I was lucky to capture this one in all its stunning perfection.
These gorgeous wild white horses are a print of an original oil painting by world-famous artist and my dear close friend Harland Young. Harland's paintings and sculptures are known and respected around the world. You can see more samplings of Harland's work on my STUDIO MILAGRO Fine Art website. I was blessed to know Harland personally and share a beautiful friendship with him for many years, till he passed in July 2015. Harland mentored me to develop my own artist skills, and I'm forever grateful for his interest in my work and for his kindness. Rest in Peace, My Friend.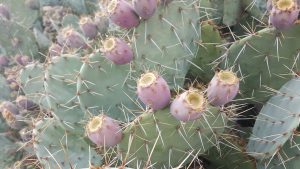 This is another photo I took myself. This cactus lives at the Sunset Point rest area on Highway 17 between Phoenix and Prescott. Sunset Point is widely known for some of the world's most breath-taking panoramic sunsets. This cactus was sitting happily near the main sidewalk greeting visitors, and was getting ready to launch a thousand blooms.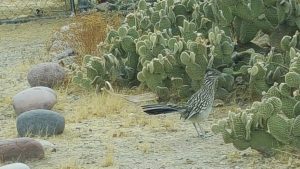 This photo I took on the desert mountain foothills near my Phoenix home. When I saw this little Roadrunner zoom across the road in front of my car, I pulled over to try getting a photo. It took a good bit of patience — these quick little fellows don't sit still for long. Beep Beep!
Another photo of my own, that I took while lounging on my back patio at my Phoenix home. So pretty and serene and relaxing. Could not resist the photo op. Love my little corner of the world here in Phoenix.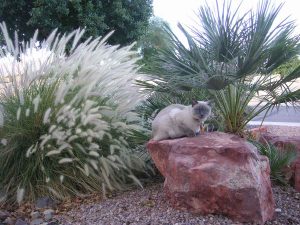 I took this photo of little Princess, one of our Milagro seniors, sunbathing on one of the red Sedona boulders in my front yard, surrounded by desert grass and Mediterranean palms. Very serene and peaceful setting.
Last but not least, this is me, taken in beautiful Sedona, Arizona at the Chapel on the Rock, circa 1998. I always savor the occasional road trip to Sedona to clear my head. Being there soothes my soul, and I come home feeling peaceful and revived.
. . . I Love Arizona.