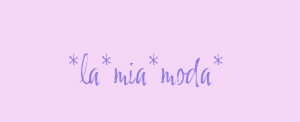 Visit me (search @la_mia_moda) on PoshMark and shop my personal closet for beautiful and affordable fashion and accessories.  Top-tier designers — Versace, St. John, i.Magnan, Armani, Escada, Dolce & Gabana, Vera Wang, Gucci, Lucky Brand, Prada, Kate Spade, as well as an array of more affordable daily wear items.
Posh Member Since Jan 2018 | Posh Ambassador Since Aug 2018
*  *  *
 Portion of All Sales Support
Milagro Senior Pets and Personal Outreach.
.
.
.
.
.